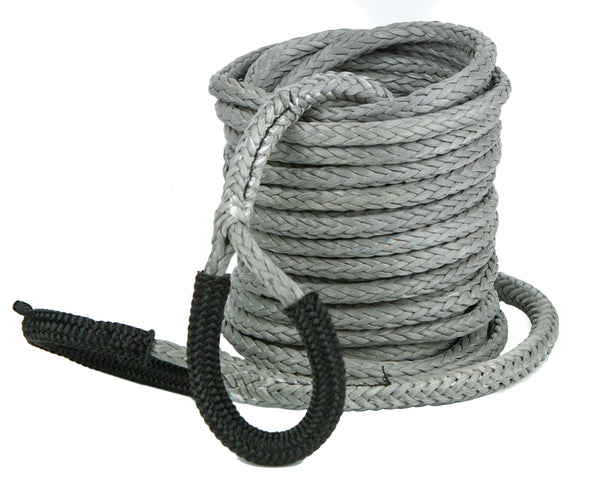 1/4" Synthetic Winch Rope Extension - Gray
Specifications

Diameter: 1/4"
Material: UHMWPE
Avg. Breaking Strength: 9,000 lbs

Let the adventures begin
A winch on your vehicle is a very important part of the recovery and safety of your journey.  From being stuck in a tight spot - to winching a tree out of a trail, it is important to count on your winch rope to help you with the task at hand. There are many benefits to a synthetic winch rope compared to a steel cable that will add value to your expedition.
Extremely Durable
Our winch ropes are made of 100% UHMWPE fiber to give you the highest level of reliability in the field. UHMWPE is used in many different shielding applications from ballistic shielding to cut resistant gloves because of its abrasion resistance. No matter what the situation is the synthetic winch rope has excellent resistance to almost all chemicals as well as UV.  At USARope Offroad we use only the best VB urethane coatings to lock fibers together for snag prevention and an extra layer of protection.
Unmatched Strength
When it comes to strength of a winch system it is always a good idea to use recovery equipment that has the highest workload ratio. UHMWPE fiber is 15 times stronger than steel pound for pound and has a much higher bend fatigue ratio than steel cable. UHMWPE has been replacing wire and steel cable in many different applications for years.
Safety First

There are many benefits to using Synthetic rope over steel cable when it comes to safety.  Using steel cable over time will create burrs and splinters on a line that will puncture your hand if it is not handled properly. With the use of a synthetic cable, It is lighter easier to maneuver and less likely to store energy than a steel line.
Warranty
Check out our warranty program to see how we back our products with quality.